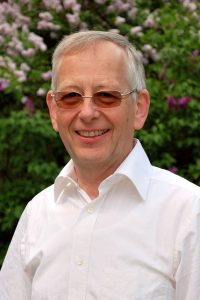 Andreas Arand begans in the age of nine with Organplaying during public service. The first recital took place with thirteen. From fifteen he was pupil of  Prof. Paul Schneider (Saarbrücken) and studied at the Musikhochschule. After examination 'Kirchenmusik' and 'Schulmusik' he became member of the famous masterclass of  Prof. Dr. Michael Schneider at the Musikhochschule in Köln, where Arand finished with the highest award of german Musikhochschule. Then he completed his standard in french organtradition with Marie-Claire Alain, Gaston Litaize and Michel Chapuis. Further studies with Montserrat Torrent, Michael Radulescu, Harald Vogel and others.
During eighteen years Arand was organist of the 'Kreuzbergkirche' in Bonn and director of the important international organrecitals there. In countless concerts he has played many famous organs in Germany and other countries (Silbermann-Organ in Freiberg, Gabler-Organ in Weingarten, Cathedral in Köln etc.).
The center of his activity is the heritage of authentic organs from all centuries. But he avoids all unilateral speciality and his repertoire is very large. It includes all organ-compositions of J.S..Bach (played during 1985 in Bonn) and J. Brahms, also the essential organworks of Max Reger, important compositions from the 15th century until our time.
As teacher at the 'Hochschule für Musik Saar' in Saarbrücken and during masterclasses a great number of young organists have profited from his experience.
Arand is official in the GdO (Association of organfriends in Germany) and member of the 'Neue Bach-Gesellschaft'.